About Us
MODERN FACILITIES IN RURAL AREAS
Arts, Science and Commerce College, Satral has taken giant strides in promoting social responsibility by blending academic excellence with ethics and holistic personality development.
Arts, Commerce, and Science College at Satral began its journey in 1998 with just 3 departments and 5 teachers. By 2018-19, we have organically grown into 13 departments with 41 teachers. Located in a 12.5 acre, lush green campus, the institute aims to deliver quality education to rural and economically weak students.
Apart from a B++ rating and 2.8 CGPA from NAAC, the college received the Best College Award from the SP Pune University. Central Library at the institute is a knowledge centre in itself and we keep it operational for most number of days.
Modern aids to classroom instruction make learning a memorable experience. The institute operates a Language Laboratory for improving spoken English of faculty and students, while the Earn and Learn Scheme aids economically weak students support their education by themselves.
On-campus Hostel houses 100 students and Medical Checkups are periodically conducted as per university directives. The institute also focuses on sports and extracurricular activities for complete personality development through a broad range of sports facilities and events.
Accreditation Status
The College is permanently affiliated to Savitribai Phule University Pune & is approved under Section 2 (f) & Section 12 (b) of the UGC act. The college has been accredited 'B++' grade with CGPA 2.87 by NAAC in the second cycle.
Facilities
Library
Laboratories
Spacious Classrooms
Seminar Hall
Laptops, Computers, LCD Projectors, T.V.s
Staff Room
Student's Common Room
Ladies Common Room
Women Empowerment Cell
Guest House
Sanitary Block
Examination Block
Administrative Block
Our Vision
Providing quality education in emerging fields to produce knowledgeable and cultured human resource, contributing to the process of national development.
Our Mission
Upliftment of rural masses through appropriate education, to empower the socially, economically and educationally marginalized sections of the rural society of the region and to augment a new generation of students for contributing to the future knowledge economy.
Mission Statement
"Lit the Light Within"
Our Goal
To achieve academic excellence of higher education.
To bring higher educational opportunities within the reach of the under privileged section of society and girls.
To inculcate value based education to empower the youth for development of the nation.
To develop an overall personality of the students by giving ample exposure in co-curricular and extra curricular activities.
To develop nexus between educational institution and society for mutual benefits by socio-Economics and cultural
transformation through higher education.
Co-curricular Achievements
It is indeed a great pleasure for me to be a head of the most dynamic and developing rural college. The Pravara Rural Education Society's Arts, Commerce and Science College, Satral, was established in 18th August 1998 by the great vision of Shri Balasaheb Vitthalrao Vikhe Patil, Padmabhushan Awardee. The institution offers 3 years undergraduate degree programs viz., Bachelor of Arts (B.A.) in Marathi, Hindi, English, Economics, Politics and Geography, Bachelor of Commerce (B.Com.) and Bachelor of Science (B.Sc.) in Chemistry. In addition to this, the institution also offers Post Graduate degree programs viz., Master of Commerce (M.Com.) in Business Administration and Master of Science (M. Sc.) in Analytical Chemistry……
Curriculum offered by the institution is highly relevant to the present needs of the society and aimed at overall personality and career development of students. The institution is committed to impart quality and value based education to the students, which help them in gaining knowledge and employment. The institution has highly qualified and experience teachers, well equipped laboratories, library, gymnasium and spacious playground. The institution has NSS unit and also conducts various extension activities under it. The Soft Skill Development program is conducted for overall development of the students. The institution has 'Earn and Learn Scheme', 'Book Bank Scheme' and 'Poor Boys Fund' for economically and socially backward students. For counseling and recognizing the needs of students the institution has started 'Student-Teacher Guardian Scheme'.
For the horizontal educational growth of students the institution has introduced 12Vocational and Career Oriented Certificate Courses. The institution has Competitive Examination and Career Guidance Cell. Padmabhushan Balasaheb Vikhe Patil Computer Literacy Program is made mandatory for all first year students for basic computer literacy. Realizing the needs of society, the institution also runs basic Computer Literacy Program voluntarily for Primary Students, Farmers, and Women's from Self Help Groups.
Most of the faculties are actively engaging in research activity. About 18 research projects were executed successfully funded by Board of College and University Development, University of Pune, and UGC. The number of research papers published in national and international journals has been increasing. Infrastructural facilities of G+3 administrative and academic building, library, multipurpose hall, guest room, cycle stand and greenish garden are available. The management and staff take efforts for quality enhancement and to achieve academic excellence.
With an objective of equipping our students and teachers to compete in global knowledge based society, the institution has started restructuring every component of education i.e. learning, teaching, research and extension to make it more relevant and useful to the society. Students and staff are provided with broad band internet facility. The institution has begun Virtual Learning Center (VLC) to access recent knowledge and information.
I am proud to inform you that the institution has dynamic staff and infrastructure to keep pace with its future plans and execute its mission and goals most successfully. It will definitely help the students in their vertical academic growth, gaining knowledge and generating employment.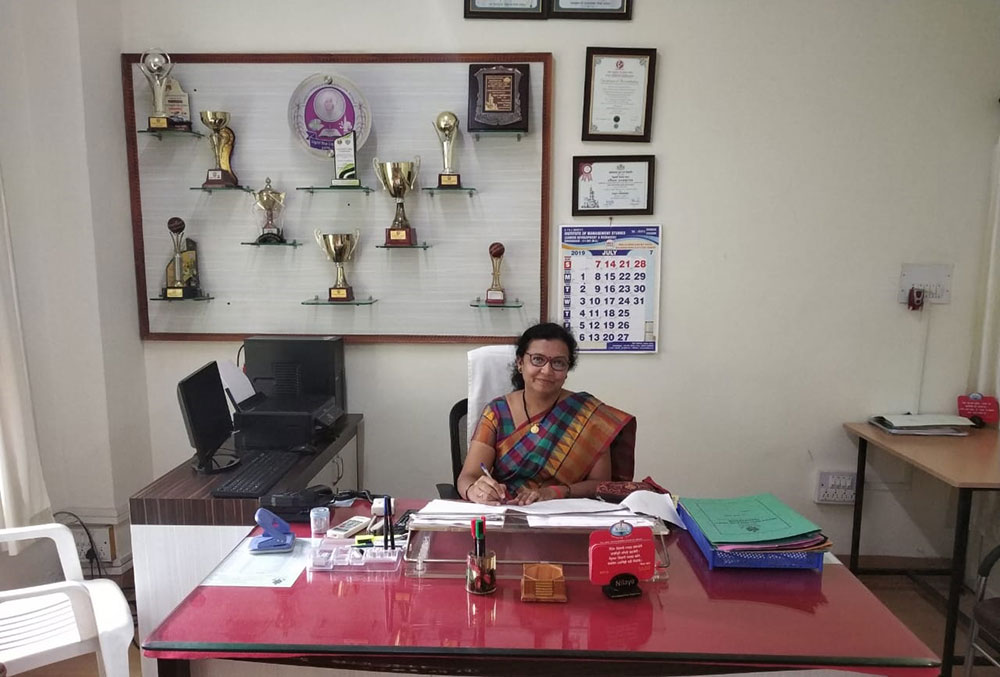 Prof. Jayshri Singar
I/C Principal, ACS College,Satral