Campus
Complete Campus, Comprehensive Approach
The college provides the broadband Internet facilities to the various departments. Nearly 90% of the faculty is now well-acquainted with the Internet operation. The college has BSNL leased line Internet connectivity. Internet connection is provided in every administrative and academic department and library.
The college has a digital Language Laboratory with 10+1 computers and a Language lab Software. It helps in improving the communication skills and overall performance in English language among the students. It is also utilized for the training of the staff in spoken English
The library in Satral College was started with its establishment in 1998 . The College library is the main center of the student to carry out their scholastic activities and hence utmost care is taken to keep it open for the maximum number of days and hours. Each student is entitled to get two cards for lending the book to home for 7 days.
The college has well equipped library with Reference Section, Journal Section, Reading Hall Digital Library & Stack-Room. The library has unique collection of Encyclopedia, Handbooks, Reference books, Textbooks, Journals, CDs etc.
Each department also has its own library with textbooks & Reference books. The library uses 'Vriddhi' software. Circulation system of books is based on Bar- Code. Library is a part of institute-Intranet. Our aim is to increase Quality Books & Journals every year, and to motivate more and more number of Students & Staff to make use of Library facilities.
Earn and learn scheme has been introduced since the inception of the institution to provide education to economically weaker and deprived students. The scheme is allotted to the students as and when demanded. The committee monitors the activities of the scheme with the help of student representatives throughout the year. The students are assigned duties in library, laboratories, office, garden, security, etc.
Canteen committee meets once in a month to discuss various issues raised by the student representatives. Canteen committee members surprisingly visit canteen for checking the quality of food. The canteen supervisor is duly informed to take necessary steps for improvement.
A separate gymnasium hall well-equipped with gymnastic and physical conditioning equipment is available solely for the students. This hall is also utilized for Table Tennis, Carom, Chess and Gymnastics etc. Not only regular activities but also sports are important in physical development of student. Sports activies include cricket, Football, Vollyball etc. Every year ,College organizes a sport week. The college has large play ground. It has a 400 M. running track available in campus for outdoor games and Cricket.
Students will have compulsory medical checkup as per the University directives. The schedule of the medical checkup is notified after the commencement of the first term. The college authorities have also made available the services of an Honorary Medical Officer, who shall be available in the nearby Pravara Rural Hospital, Loni.
Library and Reading Hall:
Library Space in Square Mtrs: - 1200 sq.ft.
No. of Books-14681
No. of Reference Books -1650
No. of Journals / Periodicals -21
No of C.D.-57
No. of reading Halls with details like size, seating capacity :- 80 Student
Hostels Facilities:
Built of Hostel Area :- 342.63sq.mt.
Total Capacity :- 100 Student
Grants received from the various Agencies.

Parking Shed for Girl Student-Pune University
Ground Development - From District Sports Office, A. Ngar
CCTV Camera Pune University
Lab Equipment & Library Books (UGC Delhi)
Womens Hostel (UGC Delhi)
Laboratory Infrastructure from DST.
General Development grant from UGC.
Building:
Built of HostelArea :- 342.63sq.mt.
Total Capacity :- 100 Student
Grants received from the various Agencies.

Principal / Director's Office 600 Sq.ft.
No. of Class rooms with size 09 (1200 Sq.ft.each),(600 Sq.ft.)
Seminar Hall 01(2400 Sq.ft.)
Staff Room 01(400 Sq.ft.)
Students Common Room 01(400 Sq.ft.)
Ladies Common Room, Women Empowerment cell 01(1200 Sq.ft.)
Guest House 01(540 Sq.ft.)
Sanitary Block 03(01 Ladies, 01 Gents,01Physicaly Disabled)
Examination Block 01(280 Sq.ft.)
Administrative Block 01(600 Sq.ft.)
Gymkhana 01(1200 Sq.ft.)
Canteen 01(400 Sq.ft.)
Laboratories

Physics 01(1200 Sq.ft.)
Chemistry 02(1200 Sq.ft.)
Mathematics 01(400 Sq.ft.)
Computer Lab 01(1000 Sq.ft.)
Statistics
Botany 01(1200 Sq.ft.)
Zoology 01(1200 Sq.ft.)
Play Ground Facility:
400 mtr.Running Track.
Volly ball Ground-02 Grounds(18 mtr.x9 mtr)
Kho-Kho Ground-01 Grounds(29 mtr.x16 mtr)
Kabbaddi Ground-01 Grounds(13 mtr.x10 mtr)
Football Ground-01 Grounds(100 mtr.x90 mtr)
Cricket Ground-01 Ground.
Basket ball Ground-01 Grounds(100 mtr.x90 mtr)
Gymkhana Facility Indoor Games:
Table tennis-01
Multy Gym-01(7 Station Gym)
Carom Board-01
Chess-02 Set.
Programs for student and Staff:
Marshal Art (Judo & Karate)
Weight Loose Programme.
Body building programme.
Physical Fitness & Sport Skill test for First year student.
Teaching equipment details:
Computers 49
L.C.D.Projector 05
T.V. 02
Laptop 03
Water Filter (R O) 02
Divyagan physical facility:
Exam Divyangjan Facility
Ramp Facility
Girl rest room Facility
Drinking water Facility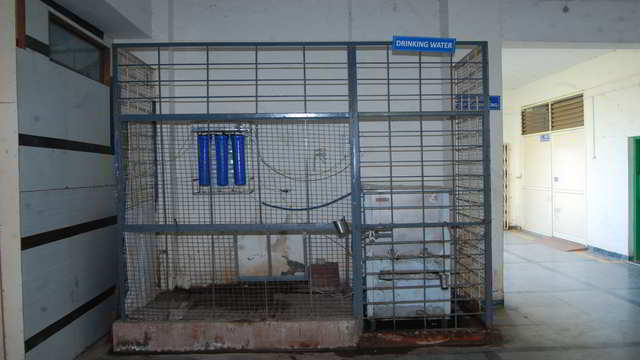 College library has large numbers of title and volume of reference books, textbooks and handbooks required for teaching learning activities. There are good numbers of books on arts, commerce and Science subjects. The database is centrally computerized for accession through KOHA online library software for the students and bar codes for the books for easy secure and quick operation. Students can reserve the books through the WEBOPAC.
Library was established in the year 1998. It has come a long way since then the library provides pleasant and quiet atmosphere for studies. Inside campus the library is located at a place that is convenient to students of all Faculties. Self-development and learning starts from a student's mind. Keeping the same in mind our libraries have been designed to provide a Conducive atmosphere to our students.
Library Goals
Select, acquire, preserve and disseminate relevant and latest information to users.
Supply the latest information to all specialties in their respective field.
Issue and retrieve books and other relevant material on notice boards.
Provide information communication transmission(ICT)service to all users(availability of books author wise, Publisher wise, Title wise)
Assist users to access information on World Wide Web
Services
Access to online journal
Book lending
Reprographic Facility
Reading Room
Reference Services
Information Display and Notification
Book Bank
User Orientation
Web OPAC
Audio-Visual resources
Internet Facility with Wi Fi
Departmental Library
Library Staff Details
| | | | | | |
| --- | --- | --- | --- | --- | --- |
| Sr.No. | Name of Staff | Designation | Qualification | Email ID | Mobile Number |
| 1. | Dr. Pawar A.B. | Librarian | M.Com,M.Lib.,M.Phil., Ph.D | asapawar@mail.com | 09923278957 |
| 2. | Mr.Pawar S.C | Attendant | S.S.C. | | 09552369029 |
Library Advisory Committee
| | |
| --- | --- |
| Name of the staff member | Designation |
| Smt.Singar J R (Principal) | Chairman |
| Mr.Gholap D. N. (Vice Principal ) | Member |
| Shri. Shinde V.B. | Office Superintendent |
| Mr. Shinde V. G . | Coordinator |
| Dr. Tambe R.S. | Member |
| Mrs. Pandhure L.H. | Member |
| Dr.Pawar A.B. | Secretary |
Library Collection
| Particular | Total Number |
| --- | --- |
| Total Number of Books | 21595 |
| Total Number of CD's/ DVD's | 75 |
| Total Number of Bound volumes | 123 |
| Total Number of Journals and Magazines | 26 |
| Total Number of E-books | 3135000 |
| Total Number of E-Journals | 6000 |
| Total Number of Newspapers | 08 |
Library Timing
| Particulars | Time | Hours |
| --- | --- | --- |
| Reading Hall | 8.30 AM TO 5.30AM | 9 |
| Normal Working Days | 8.30 AM TO 5.30AM | 9 |
| Circulation | 9.00 AM To 5.00PM | 8 |
| Reference Section | 9.00AM To 05.00PM | 8 |
| E-Library | 9.00AM To 05.00PM | 8 |
Sport is the heart of the college. Sports provide adequate services to its users. Sport department was established in 1998. Gymnasium is equipped with ground and facilities.
Infrastructure
Indoor Hall
Volley ball Ground
Kho-Kho Ground
Running Track
Cricket Ground
Achievements
Six Students have achieved great success in State Level Student Olympics held at Usmanabad organized by Student Olympic Association. Pradip Salkar, Nitin Ghorpade,Somnath Dhage,Sagar Nikam, Vikas Sansare, Ganesh Gangurde are selected for National level Student Olympic Competition held at Gujrath- Vadodara.
Bronze in National Level Student Olympics: Nitin Ghorpade and Somnath Dhage have bagged Bronze medals in 400 Meters in respective age groups in National Level Student Olympics held at Badoda, Gujarath organized by Student Olympics Association.
2 Students are selected for S.P.Pune University Inter Group Competition. (Swimming , Volley ball)
POLICY DETAILS OF MAINTENANCE
Policy details of systems and procedures for maintaining and utilizing physical, academic and support facilities.
The institution has standard procedure for maintenance and optimal use of infrastructure. There is a provision of allocating budget for the maintenance of physical, academic and support facilities. Separate budget is allocated for Under-Graduate and Post Graduate programs. A separate committee from Pravara Rural Education Society regularly takes the stock of physical facilities and academic support facilities and accordingly budget is allocated for various purposes such as Internet fees, laboratory expenses, educational tours, organizing various college related programs and seminars, college magazine, electrical charges, repairs and maintenance of garden, buildings, electricity, water supplying system, furniture, sanitation etc. The Institution plans and ensures the optimal use of available infrastructure. Facilities in 15 classrooms and 12 Laboratories (Botany, Zoology, Chemistry, Physics, Geography, English, Commerce, Computers ,ICT, Library, Playground and Gymnasium Some laboratories are optimally used in two shifts according to time table from 8A.M. to 5 P.M.. Library is kept open from 8.30 am to 5.30 p.m. during working days whereas during examination period, library time is extended up to 6.00 p.m. Virtual Learning Center is made available for students and villagers as per the schedule. Gymnasium and college ground facility is also used by local people for sports, morning and evening walk and yoga activities. Thus, the institution utilizes its infrastructure optimally.